Regular classes
Our regular meetings take place every Monday from 19:30 to 23:00.
At the moment there is free dancing, open to everyone from total beginner to exper dancer. On August 8th, 15th and 22nd there will be additionally a refresh course by Alain Nzali.
Location: Gymnastics hall, 2nd floor, Minoritenstr. 7, 52062 Aachen, Germany
You can get more information about the lessons below.
Timetable of the courses
Free dancing
Free dancing is open to all. You can repeat and perfect the techniques and figures from the courses or simply have fun while dancing. It also offers the opportunity to dance with the people from the other courses.
Admission: free for course participants, otherwise 1 Euro
Location: Gymnastics hall, 2nd floor, Minoritenstr. 7, 52062 Aachen, Germany
Courses
In the courses you will learn new movements and figures as well as technique and connection to your partner. During the following free dancing you can then practice and polish up what you learned.
Samba de Gafieira is a couple dance with a lot of joie de vivre. More info about Samba de Gafieira
We offer a beginners course and an intermediate course.
The beginner course is a beginner course for people with or without previous knowledge. You will learn the basic steps, first variations and everything you need to have fun on the dance floor.
In the intermediates' course you will deepen your knowledge about the concepts you learned in the beginners' course, as well as learning new steps and variation.
You do not need a fixed partner – during the course the pairings are regularly rotated.
A course (8x60min) costs 50 EUR. From a registration in pairs there is a 20% discount (40 EUR p.p.). From a registration with four persons there is a discount of 30% (35 EUR p.p.).
Free dancing is always open for everyone.
An overview of the dates of our courses, parties and other events can be found under Events.
If you have any questions, write us: Contact.
Videos
Here some of our students train after class by combining the newly learned figures with their already familiar movements.
To reach the level of the professional dancers of Rio, a lot of dedication is required. But even with a little practice you can have a lot of fun on the dance floor and enjoy the beautiful combination of elegance and dynamics that Samba offers.
---
Teacher
Uliana and Alain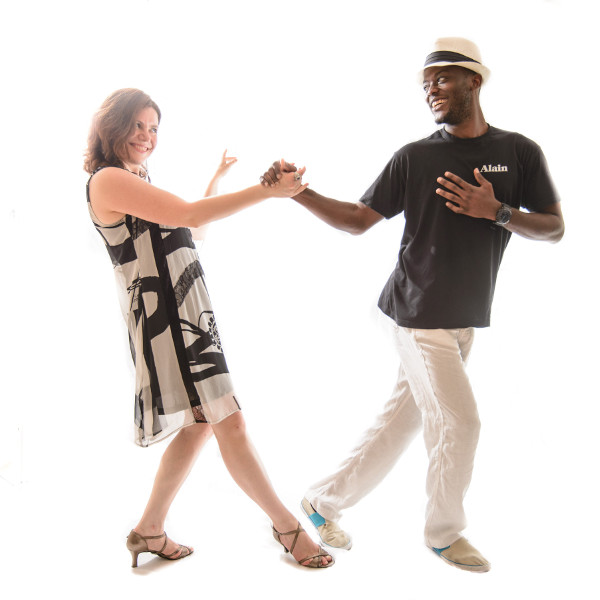 Seven years ago Uliana and Alain fell in love with Samba de Gafieira and have since been dancing in the group "Tanze Samba mit mir" in Aachen, founded by Noêmia. After Noêmia's relocation to Munich in 2014, they continued the group. They give regular courses in Aachen and Cologne and share their enthusiasm for Samba de Gafieira in workshops and performances throughout Germany.